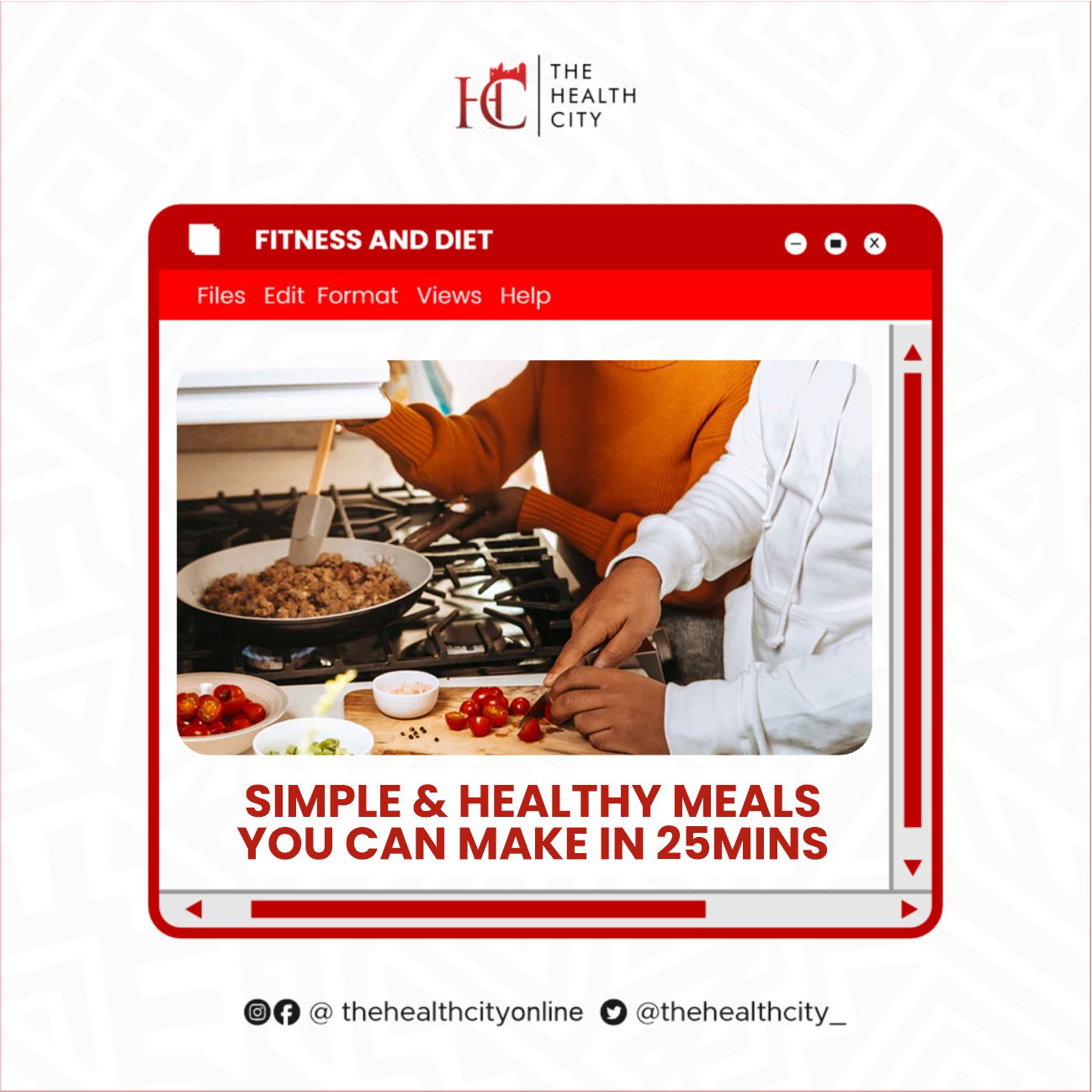 Mo
0 Comments
83 Views
Simple and healthy meal you can make in 25 mins
A diet that supports or enhances general health is considered healthy. The body receives the important nutrients it needs from a healthy diet, including fluid, macronutrients like protein, micronutrients like vitamins, and sufficient amounts of fiber and food energy.

All the nutrients you need to maintain good health, feel good, and have lots of vitality are provided by healthy food.
Consuming a wide range of various food types is the best method to make sure you're eating healthfully.

1. Every meal should include vegetables, salad, or fruit because they are full of nutrients that are good for your health, make you feel satisfied, and protect you from chronic diseases.

2. For the best combination of protective nutrients, eat a range of colored foods. Breads, potatoes, spaghetti, rice, and other carbs are excellent sources of energy. Since they contain fiber to maintain a healthy digestive system, it is better to consume these in wholegrain form. Your age, height, and gender will determine how much you need.

3. Choose lean meats and poultry when making dishes with meat. At least twice a week, consume seafood—white fish one day and oily fish the next. Essential omega-3 fatty acids are found in oily fish, which support heart function.

4. Protein is required daily by your body to support growth and keep a healthy body. You can get enough protein in your diet by eating meat, poultry, seafood, eggs, beans, and nuts.

5. It's simple to overlook how important beverages are to our nutrition. The healthiest beverages are milk and water; it is best to stay away from sugar-filled beverages. An example of a fast, nutritious meal that takes 25 minutes to prepare
This straightforward dish manages to be both light and filling at the same time, making it a healthy take on comfort cuisine.

Greens & Beans (serves 5)
1 large bunch of dandelion greens, washed, trimmed, and chopped.
1/4 cup chicken or vegetable broth.
425 gram cans of cannellini beans, drained and rinsed.
2 Tbsp apple cider vinegar.
1 Tbsp extra virgin olive oil.
1/4 tsp red pepper flakes
1 small yellow onion, thinly sliced.
2 cloves garlic, minced.
1 Tbsp fresh thyme leaves.
Sea salt and pepper to taste
Over medium heat, warm the olive oil in a sizable pan. Add the onions and cook for about 8 minutes, or until tender.
For 2 more minutes, add the garlic, herbs, red pepper, salt, and pepper.
Stir the oil into the chopped dandelion leaves to evenly coat them. Heat will be reduced to medium-low after adding the liquid and covering. Cook for about 10 minutes, or until softened.

After adding the beans, stir briefly to ensure that they are thoroughly cooked. Add a sprinkle of sea salt and pepper for seasoning, taste, and then stir in the vinegar.

Reference
Www.Safefood.com
U.S. Department of Agriculture, Center for Nutrition Policy and Promotion. The Healthy Eating Index.
https://www.hsph.harvard.edu/